Regular price
Sale price
$ 650.00
Unit price
per
FICM Tuner Rental Program:

ONLY $150 per tune
$500 refundable upon return withing 30 days.
FICM Programming: Instantly feel what you've been missing
It all started with Bill being told he couldn't program the Fuel Injection Control Modules (FICMs) in the 6.0L PSDs. His response, "Hold my beer". This challenge resulted in one-of-a-kind tuning that unlocks previously unimagined benefits in 4 distinct power levels, Economy, Atlas 40, Atlas 80, and Hercules.
Features:
Resolves many cold-start issues
Usually results in

 

more MPG
Improves tip-in throttle response
Results in better overall drivability from idle up through 3500 rpm
Proven performance gains up to 100 HP
Eliminates annoying injector post buzz
Alternate tuning available for large-nozzle injectors
Works with most ECM tuning
With 4 separate power levels, there's a FICM tune to fit your needs:
ECONOMY

 

– Improved throttle response and economy without any significant power gains. Good for all applications, but generally used when the ECM has a high horsepower tune and additional fueling is not desired.
ATLAS 40

 

– Improved throttle response and economy with a 40 HP gain. Useful for mild to heavy towing or when excessive exhaust gas temps (EGTs) are a concern. Good for trucks without head studs.
ATLAS 80

 

– Improved throttle response and economy with an 80 HP gain. Best for daily driving or very light towing.
HERCULES

 

– Maximum performance with a 100+ HP gain. Not recommended for towing as it can increase EGTs. It's recommended you run an EGT probe to monitor temps. NOT RECOMMENDED FOR TRUCKS WITHOUT HEAD STUDS.
"What can I really expect?"
Below are the dyno plots that show just what you can normally expect from reprogramming your FICM.
The vehicle we tested was a 2004 F-250 2WD with 283,000 miles, running a 100 HP tune on the ECM.
Vehicle test conditions: Engine at full operating temperature, 3rd Gear, Converter Locked.
To read the dyno charts, the Torque scale is on the left and the HP scale is on the right. This image helps to illustrate the differences between a standard FICM strategy and a modified FICM strategy on an otherwise stock vehicle.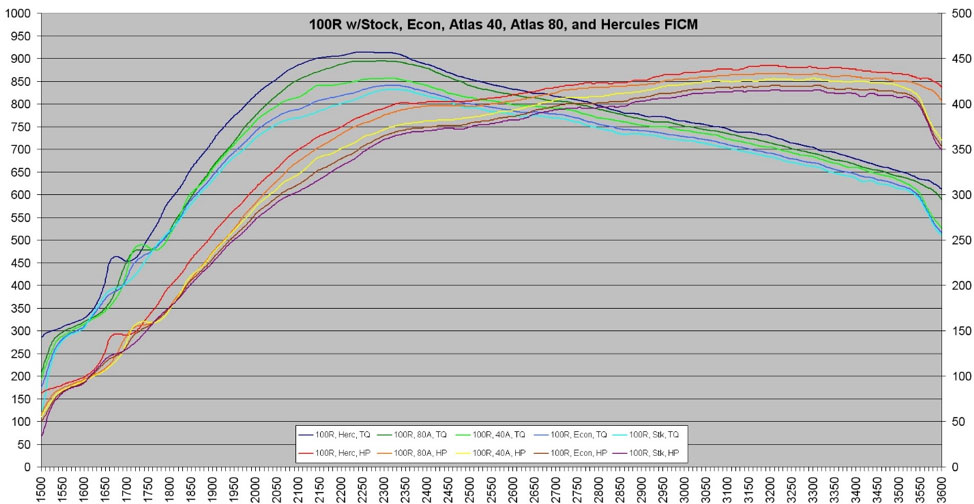 Share
View full details